Parent Testimonials
A parent reference for any of our teachers or classrooms is available upon request. Please click here to be connected with a parent of a current or former student of Mountain View Montessori, Montessori Children's Village or Rib Mountain Montessori (the schools have since combined). These parents have volunteered to be available to answer any casual questions. Please take a moment to read a few of our parent testimonials below.
For additional information, a school tour, or registration, please contact us:
715.298.3832
information@mtnviewmontessori.com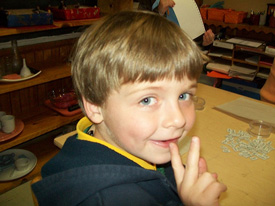 We have had two boys in the 3-6 year old classroom at the Montessori Children's Village during the last three years, and it has been a very positive experience for our entire family. Our boys thrived in the Montessori classroom environment, excelling in math and reading in a way that would not have been possible in a traditional classroom, as well as learning 'soft' skills such as lunch time manners.

Additionally, as they matured, they learned how to take on leadership roles and teach the younger children, which has proven to be an invaluable skill. The MCV teachers have been wonderful--knowledgeable and competent in their teaching ability--as well as kind and loving with our children.
Mehrdad and Angie Nazari-Witt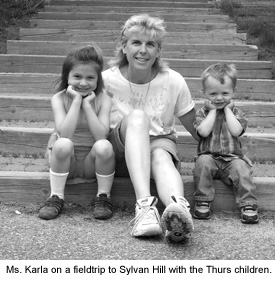 At Montessori, my children's classroom has provided a family-friendly environment with a child-focused structure that has supported my son and daughter's individual needs at each new stage in their development. The school's program as a whole--and Ms. Karla in particular--has guided my children to become self-directed learners, determined problem-solvers, supportive collaborators, and respectful stewards of the earth.

We especially appreciate the practical-life skills and the many hands-on learning opportunities the children partake in each year, such as trips to the local farmer's market, Grand Theater, fire station, public library, YMCA (for swimming lessons), and so on. Parents in the Wausau area are fortunate to have this choice for their children's education.
Sarah & Chad Thurs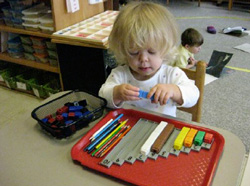 Our children having been attending Montessori for over two years. They are excited each day to go to school and have many adventures to share each afternoon. Our oldest child (in 4K) enjoys sharing what math works, and word building she has been doing. The other day she was excited to announce that she was building a globe with the continents on it in her classroom. Our younger daughter (a 3 year old in the 3-6 classroom) enjoys doing yoga with her friends, scrubbing things, and learning from her older friends.

As parents, one of the most helpful aspects is our interaction with the staff. Ms. Leah and Ms. Karla have worked with us in learning about our children, and answered our questions about their progress in life. The staff is always willing to answer questions and work with us as a family to make our children's experiences the best possible. We look forward to many more years involved with this Montessori program and highly recommend it to all of our friends.
Mike and Rachel Klemp-North