What is Montessori?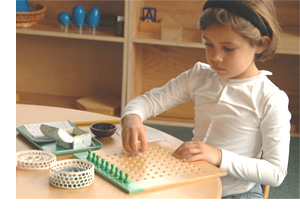 Montessori is an approach to education with the fundamental belief that a child learns best within a social environment that supports and respects each individual's unique development. Chose a topic here or learn more below.
Come tour our school and learn about the quality, beauty, & effectiveness of the Montessori Method. See our infant and educational programs in action.

Call Mountain View Montessori to schedule a tour at your convenience: 715.298.3832.

The Montessori Method
Maria Montessori, the first female physician in Italy, developed the Montessori Method of education. By focusing on a child's environment and the teacher who organizes it, Montessori outlined the 6 essential components to a Montessori environment: freedom, structure and order, reality and nature, beauty and atmosphere, the development of community life, and authentic Montessori Materials.
Freedom for the child is achieved by providing the child with activities that foster independence and encourage freedom of choice. A child is assisted in developing discipline by providing meaningful work to achieve both physical and emotional freedom.


The Montessori environment is to have structure and order to give each child the ability to engage in purposeful activity. A child will know where to find the work and return it when finished. Materials are placed orderly on easy-to-access, child-sized shelves. Activities offer variety without being overwhelming.


The Montessori classroom has its basis in reality and nature, so as to reflect the real world. Equipment is authentic and child-sized, as well as aesthetically pleasing.


Beauty and atmosphere of the Montessori classroom is achieved through a comfortable, homelike environment. Authentic objects and real wood materials are preferred over plastic. Plants, student artwork, and the children's family photos decorate the classroom.


Importance is placed on the development of community life in a Montessori environment. Through specific activities of the Montessori Method, children develop a sense of ownership and responsibility for the classroom environment and begin to feel social concern for one another.


Authentic Montessori Materials follow 6 basic principles: meaningfulness to the child, isolation of difficulty in a single material, materials progress from simple to complex, materials prepare indirectly for future learning, and materials begin as concrete expressions and graduate to abstract.
Maria Montessori set forth her philosophy as the way education should be presented to all children. She believed that in a Montessori classroom, children can achieve self-discipline and achieve freedom for their own development when provided with the appropriate environment and materials with which to explore. Maria Montessori's philosophy and method is popular all over the world, with schools implementing the Montessori educational method for children from birth through college. The Montessori Method of education strives to cultivate each child's natural desire to learn.
Download our printable program brochure (PDF).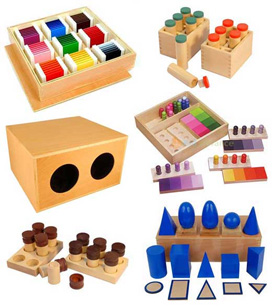 Montessori Materials
In addition to the 6 principles named above, Montessori materials are divided into 4 categories:
Practical Life (pouring/sorting/scrubbing)
Academic (language/writing/math)
Sensorial (learning via the senses)
Cultural/Artistic (our world/science/history)
In order for materials to be effective, the appropriate Montessori Material needs to be presented to a child at the right moment in his or her development. A Montessori teacher's role is to introduce the materials at the correct time, in the correct manner, and then observe the response of the child.
Repetition of an exercise occurs when the child understands the original use of the material. When the child begins to create new ways to use the material, the child is using creativity to expand his or her own development.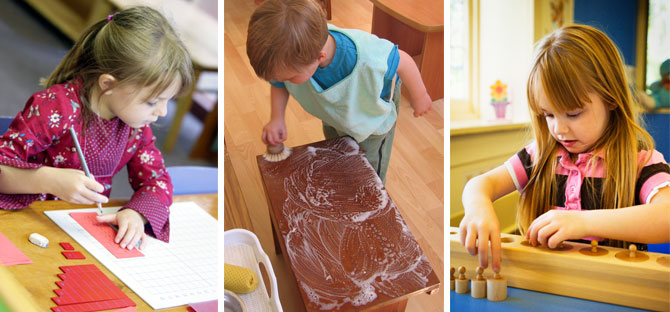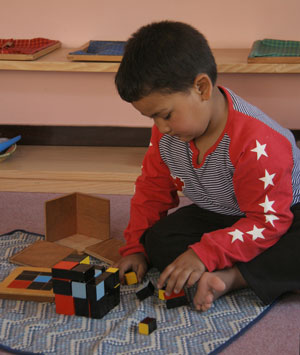 Montessori vs. Traditional Education

The goal of both Montessori and Traditional Education is the same: To provide positive, quality learning experiences for a child.

The biggest differences lie in the kinds of learning experiences that each school provides and the methods they use to accomplish this goal. Montessori educators believe that both of these differences are important because they help shape what children learn, their work habits, and their future attitudes toward themselves and the world around them.

Click here to download a chart (PDF) comparing the Montessori Method to Traditional Educational Approaches.

.