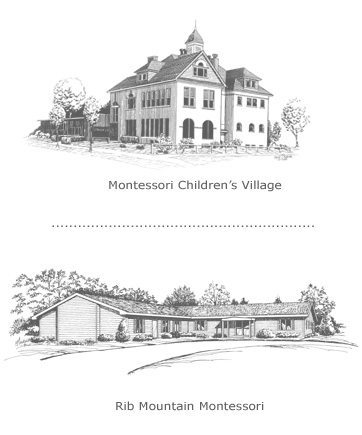 150 years of Experience & History
In June of 2011, Leah Bjerke proudly opened the doors of Mountain View Montessori with the aim of continuing the beautiful legacy that her mentor, Patti Filak, had established in the Wausau community. As the founder and administrator of both the Montessori Children's Village (est. 1990) and Rib Mountain Montessori (est. 1997), Patti reflected Maria Montessori's principles with charm and grace both in and outside of the classroom for over 20 years.
Leah worked at Montessori Children's Village for 6 years under Patti's guidance. Upon announcing her retirement, Patti once again mentored Leah as she enthusiastically brought together the longstanding Montessori-trained staff from both of Patti's schools, intent on carrying forward the tradition of high-quality Montessori instruction and care that Patti had developed. Although our building is new, our staff collectively shares over 150 years of Montessori instruction, early childhood teaching, and childcare experience with the children of Mountain View Montessori.



Mission Statement
Mountain View Montessori provides a safe, nurturing environment where every child's educational, emotional, physical, and social needs are respected and fulfilled. We strive to cultivate each child's natural desire to learn and foster his/her natural curiosity and love of knowledge. Mountain View Montessori provides an environment allowing each child to develop independence and respect for others and the environment. Through a traditional Montessori learning environment, Mountain View Montessori allows each child's introduction to education to be joyful and a purposeful start to a journey of lifelong learning.
Nondiscrimination Clause: Mountain View Montessori does not discriminate against individuals on the basis of gender, race, religion, national origin, ancestry, creed, pregnancy, marital or parental status, sexual orientation, or physical, mental, emotional, or learning disability. Federal Law prohibits discrimination in education and employment on the basis of age, race, color, national origin, gender, religion, or disability.




Hours of Operation

Monday - Friday
6:30 A.M. – 5:45 P.M.